Australian National Botanic Gardens
---
In Flower This Week

A weekly news-sheet prepared by a Gardens volunteer.
Numbers in brackets [ ] refer to garden bed 'Sections'. Plants in flower are in bold type.

3 May 2002
Edging the footpath below the Visitor Centre, Hakea crassinervia [Section 221] has red flower-balls along its long low branches. In flower now are hakeas, banksias and callistemons so these, and many others, will be seen along this walk. There are lots of flowers along Banks Walk, including the brilliant blue fan flowers of Scaevola 'New Blue' [Section 174]. This walk, then, will start at the far end of the Café building where Acacia alata [Section 240] is quite unusual with flattened angular stems, small triangular sharp leaves and globular cream flowers.
Leptospermum juniperinum [Section 12] is an open shrub with arching branches dotted with small open white flowers. Draped over the retaining wall, Melaleuca thymifolia [Section 12] is a small plant bearing feathery pink flowers, while another tea-tree, Leptospermum squarrosum [Section 12], displays most of its lovely peach-blossom pink flowers on the lower limbs. Behind the seat Baeckea sp. [Section 12] is a dense shrub well covered with tiny white flowers. Across the road a bottlebrush, Callistemon citrinus 'Austraflora Firebrand' [Section 32] is radiant with crimson bottlebrush flowers over a medium size shrub.
Banksia spinulosa var. collina [Section 28] is quite a large shrub laden with fine dull juvenile flower spikes maturing to a gold colour. Lomatia tinctoria [Section 28] is yet small with divided leaves and terminal clusters of uniquely arranged cream flowers.  Pass under the branches of the grand old Eucalyptus mannifera [Section 27] with grey mottled trunk, to where Grevillea lanigera [Section 27] is dense and prostrate and covered with pink and cream spider flowers. Grevillea victoriae var. leptoneura [Section 27] also has spider flowers, coloured red, which dangle from the branches of this large open shrub.
Numerous banksias include Banksia spinulosa var. spinulosa [Section 27], which displays its maturing chocolate ribbed gold flower spikes, while Banksia occidentalis [Section 27], near the seat, is tall and lanky with a few immature flower spikes so green maturing to lovely red flowers … high up. Then Banksia paludosa [section 29], low and rounded with dull flat leaves and long, slim, brown-toned flower spikes, and Banksia integrifolia subsp. compar [Section 27], just laden with pale yellow flower spikes dotted with grey throughout this spreading small tree.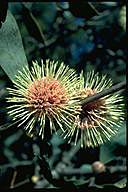 A corner of the flora of the Sydney Region Gully is colourful with the bright pink star flowers of Crowea saligna [Section 191H] covering the neat shrubs and Grevillea rhyolitica [Section 191H] of similar size with pendent burnt orange spider flowers.
Edging the return road, Astartea 'Winter Pink' [Section 19] isa graceful, upright plant decorated with small pink open flowers scattered along its branches. A group of hakeas includes the Sea Urchin Hakea, Hakea petiolaris [Section 20], tall with broad grey-green leaves and large cream globular flowers, while the Pincushion Hakea, Hakea laurina [Section 20], nearby has different leaves and similar shaped deep red flower balls. Time to discover the beauties of the Rock Garden?
Great walking, wonderful flowers …                         Barbara Daly.
---
Updated May 20, 2002 by, Jan Wilson (jan@anbg.gov.au)
---