Australian National Botanic Gardens
---
In Flower This Week

A weekly news-sheet prepared by a Gardens volunteer.
Numbers in brackets [ ] refer to garden bed 'Sections'. Plants in flower are in bold type.

26 April 2002
The flowers along Banks Walk are so colourful and there is much colour along the Main Path. So this walk will be in a clockwise direction around the Main Path, starting at the Rainforest where vegetation is so green. Near the seat on the boardwalk, Syzygium australe [Section 148] is a tree of medium size with white fluffy flowers amid the dark green shiny leaves.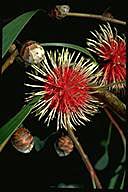 Towards the Rock Garden, read about and view the Wollemi Pine, Wollemia nobilis [Section 110], in its olive green cage. At the far end of the Rock Garden, which is being upgraded, the attractive blue colours of the dwarf Dampiera juncea [Section 15R] and Dampiera stricta [Section 15R], a more upright suckering plant, can be compared. Further on, flowering hakeas include Hakea laurina [Section 20], a medium, open shrub with golf-ball size flowers coloured red with cream styles … really attractive.
The path then wanders through the Eucalypt Lawn to the Sydney Region Gully where flowers are more prolific. In the display bed Crowea saligna [Section 191U] continues to bear deep pink star flowers while, opposite, Platysace clelandii [Section 191L], of similar size, bears heads of small white flowers. Goodenia decurrens [Section 191L] is a small herb with yellow flowers on upright stems. A small rounded shrub, Hibbertia saligna [Section 191L], also has bright yellow flowers. Continuing along this path, the flannel flower, Actinotus helianthi 'Federation Stars' [Section 191E] is a small erect plant with its velvety white star flowers rising above the furry grey foliage. The garden opposite the look-out area is colourful with the deep purple fan flowers on prostrate stems of Scaevola ramosissima var. ramosissima [Section 191P], the small tubular red flowers along upright stems of Epacris impressa [Section 191P] and Correa reflexa var. speciosa [Section 191P].
Wander among the grevilleas mostly yet to flower. Grevillea pinaster [Section 24] is an open shrub profuse with pendent red flowers. Adenanthos detmoldii [Section 26] is an interesting plant with yellow and orange flowers along the upright stems. Hakea cycloptera [Section 24] is colourful with small lacy pink flowers clinging to the stems of this open shrub. Banksia pilostylis [Section 25], as yet young and small, has dense greyish foliage with upright tapering cylindrical flower spikes coloured lime with brown tips. Banksia spinulosa 'Birthday Candles' [Section 30] is dwarf and spreading, bright with golden upright flower spikes. Close by, Grevillea petrophylloides var. petrophylloides [Section 30] presents soft pink cylindrical flowers atop upright stems and, opposite, Banksia burdettii [Section 30], sheltering against a rock, is still small but brilliant with its acorn-like flower spike coloured bright orange at the base with paler immature top.
On your way back to the Café, pass by the bed of bright yellow straw daisies [Section 303] and the group of Melaleuca fulgens 'Hot Pink' [Section 10], so well named.
Flowers, flowers, beautiful flowers …                                          Barbara Daly.                     
---
Updated May 20, 2002 by, Andrew Lyne (Andrew.Lyne@deh.gov.au)
---