Australian National Botanic Gardens
---
In Flower This Week

A weekly news-sheet prepared by a Gardens volunteer.
Numbers in brackets [ ] refer to garden bed 'Sections'. Plants in flower are in bold type.

12 April 2002
To view our colourful native plants and other floral beauties on paper, visit the Banks Building where artists Helen Fitzgerald and Elisabeth Sherras Clark have an exhibition of botanical illustrations (on display until 14 April). Then continue on this walk around and about the Rock Garden to see the real thing.
In a clockwise direction and above the steps, Banksia integrifolia [Section 15C, 15L] lies prostrate across the path. The leaves are a dull green with silver backs, the upright flower spikes are a soft lemon. Chrysocephalum semiamplexicaula [Section 15D] is glowing with small heads of orange and yellow flowers on disorderly stems. Hypocalymma strictum var. longifolium [Section 15D], close to a rock face, is a neat dwarf shrub with pink lacy flowers decorating the stems. Goodenia affinis [Section 15D], edging the path, is a prostrate plant with grey velvet foliage punctuated with many single yellow flowers.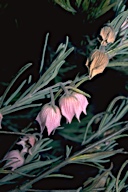 In the centre of this bed, Alyogyne 'West Coast Gem' [Section 15F, 15W] is of medium size with open purple hibiscus flowers. Accompanying it is Guichenotia macrantha [Section 15F], an open shrub with grey foliage and soft pink bell-shaped flowers. Halgania anagalloides var. preissiana [Section 15F] has a crown of deep blue flowers over the dwarf plant. On the far side of this bed, the brilliance of the few scarlet flowers of Lechenaultia hirsuta [Section 15F] stands out. In contrast, the flowers of Lomandra leucocephala subsp. robusta [Section 15F] are not colourful but very interesting, as they are cream and woolly and in dense clusters along the stems of this tufted grass-like plant.
The prostrate form of Grevillea lanigera [Section 15W], with pink spider flowers, falls down the bank while, throughout this area, the yellow straw daisies of Bracteantha bracteata [Sections 15] are so bright. Edging the steps, Grevillea 'Mason's Hybrid' [Section 15H] is quite large and well supplied with bright pink cylindrical flower spikes.
Bordering the top road, Scaevola albida var. albida [Section 15H] is a low spreading plant vivid with white fan flowers. Nearby, Dampiera sylvestris [Section 15H] is well covered with bright blue flowers over this suckering plant. Pimelea ferruginea [Section 15H] is so small and neat with terminal heads of small pink flowers. Muehlenbeckia axillaris [Section 15L], with dark foliage and minute cream flowers, clings tightly over the rocks. Above, Leptorhynchos nitidulus [Section 15L] is a dwarf, spreading herb bright with yellow daisies.
Lasiopetalum involucratum [Section 15R] is a small shrub with downturned sprays of pink flowers mingling with the tan coloured fruits. Scaevola calliptera [Section 15R] is prostrate with lateral stems of rich purple fan flowers while, close by, Prostanthera magnifica [Section 15R] is a small upright shrub picturesque with large two-toned mauve bugle flowers. In front of the waterfall, Banksia spinulosa 'Birthday Candles' [Section 15V] is dwarf with many flower spikes maturing from cream to gold. Hemigenia pungens [Section 15V] reveals its soft pink bugle flowers along its prostrate stems.
Such a great variety of flowers ... Barbara Daly.
---
Updated April 11, 2002 by, Andrew Lyne (Andrew.Lyne@deh.gov.au)
---