Australian National Botanic Gardens
---
In Flower This Week

A weekly news-sheet prepared by a Gardens volunteer.
Numbers in brackets [ ] refer to garden bed 'Sections'. Plants in flower are in bold type.
29 March 2002
After enjoying the floral colour on either side of Banks Walk take time to saunter along the Main Path, along which numerous flowering plants will be selected. Start at the far end of the Café building, where the tall bottlebrush Callistemon viminalis [Section 143] drapes its arching branches brightened with red flowers above the path. Callistemon chisholmii [Section 12] is a medium open shrub with delicate pink flowers. Another shrub with bottlebrush flowers is Melaleuca fulgens 'Hot Pink' [Section 10] displaying its rich pink flowers.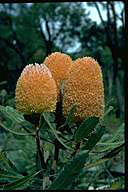 After the Sections of grasses and daisies, a small rocky area contains Banksia burdettii [Section 30], as yet a small shrub, with serrated leaves and one acorn-shaped whitish flower head which, on maturing, will reveal its attractive orange colour. Opposite, Banksia spinulosa 'Birthday Candles' [Section 30] displays an abundance of cream to gold flower spikes over the dense dwarf shrub. Banksia integrifolia var. integrifolia [Section 30] is quite tall with silver-backed leaves and lemon flower spikes. Below is a prostrate form with similar leaves and flower spikes.
Grevillea paniculata [Section 26] has fine, sharp, divided leaves and fine perfumed white flowers. Few grevilleas are yet flowering however the mottled grey-white trunks of the Brittle Gums, Eucalyptus mannifera [Sections 24, 25 and elsewhere] are a haven for chattering birds.
Walking the curvaceous path through the Sydney Region Gully, Scaevola ramosissima var. ramosissima [Section 191H] has deep purple fan flowers over its prostrate stems. At the entry, Podolobium aciculiferum [Section 191H] is a small shrub with short shining dark foliage bright with yellow pea flowers. Grevillea rhyolitica [Section 191S] has red flowers pendent from its branches. Opposite the lookout over the gully, Epacris impressa [Section 191P] has pink tubular flowers clustering along long stems while another bush has red flowers. The pink form is the floral emblem of the state of Victoria. Dampiera stricta [Section 191P] also brightens this area of many greens with its blue flowers. The stark white oddly arranged petals of the flowers of Isotoma axillaris [Section 191P] are quite startling. In the top display bed, Crowea saligna [Section 191U] is a low shrub covered with pretty deep pink star flowers mixed with waxy green leaves.
The path wanders through the Eucalypt Lawns, through an area of wattles where Acacia parvipinnula [Section18] is tall and slender with dark fern-like leaves and light yellow perfumed flower balls, to the Rock Garden. Here the yellow straw daisies of Bracteantha bracteata [Section 4] and the orange glow of the flowers of Chrysocephalum apiculatum [Section 15R] edge the path.
Entering the Rainforest Gully, so cool, so green, the Lemon-scented Myrtle, Backhousia citriodora [Section 160] is a small slender tree crowned with clusters of cream flowers. Syzygium australe [Section 148], in front of the seats, is another tree of medium size, graced with soft lacy flowers. Down the ramp, the yellow tubular flowers on a low dense shrub are those of Eremophila maculata [Section 210].
Oh! what a lovely walk ... Barbara Daly.
---
Updated March 28, 2002 by, Andrew Lyne (Andrew.Lyne@deh.gov.au)
---