Australian National Botanic Gardens
---
In Flower This Week

A weekly news-sheet prepared by a Gardens volunteer
Numbers in brackets [ ] refer to garden bed 'Sections'.
---
25 February 2000
Because it still may be 30 Cº this walk will be mainly under shade, close by the buildings. In the pots outside the Visitor Centre Pandorea 'Southern Bell', a small climber, is covered with beautiful large, pink, trumpet-shaped flowers. Lomandra longifolia [Section 224] has long, strappy leaves, among which are flower spikes covered with orange capsules and many spines. Behind the bust of Sir Joseph Banks, Banksia serrata [Section 174] bushes are tall and densely covered with large, cylindrical, maturing yellow woolly flower spikes which exude nectar favoured by many a honeyeater, including the colourful New Holland Honeyeater.
Eremophila nivea [Section 174] is a neat, upright small shrub coloured grey with soft mauve bugle-shaped flowers. Anigozanthos 'Bush Noon' [Section 210], with orange-yellow 'paw' flowers on elongated stems, is one of many kangaroo paws which continue to be so colourful along Banks Walk. Smaller plants, too, are so pleasant, including Scaevola 'Pink Perfection' [Section 174] with bright pink fan flowers along trailing stems and the violet-coloured flowers on upright stems of Dampiera sylvestris [Section 174], seen in the crescent-shaped bed. Over the road, Wahlenbergia gloriosa [Section 60], the floral emblem of ACT, is displaying its lovely bluebell flowers.
Cross over the lower Rainforest Gully and walk around the ponds, taking heed of the EasternWater Dragons, Physignathus lesueurii howittii, scampering about or lazing on the rocks, and the wood ducks which may be floating about on the water, to the Crosbie Morrison building (which contains the Gardens Education Unit). In front, edging the terrace, Scaevola 'Mauve Clusters' [Section 242] is a dense ground cover dotted with many small mauve fan flowers. Behind is a small tree, Eucalyptus ficifolia [Section 242], so spectacular with clusters of orange-red feathery flowers. On the other side of the building is another spectacular sight. Callistemon viminalis [Section 239] is a tall, pendulous shrub brightened with many a red bottlebrush flower. Opposite is Banksia serrata 'Austraflora Pygmy Possum' [Section 143], dwarf and dense with ageing yellow woolly flower spikes.
Crowea 'Pink Blush' [Section 240] is an open plant bearing white, with a faint dash of pink, starry flowers. In the centre of this bed Crowea 'Festival' [Section 240] glows with bright pink flowers. Passing the large old Grevillea juniperina [Section 124], bearing many orange spider-like flowers, to the Rainforest Gully to feel the coolness and see the variation of green plants. On the far side, close to the building, the vivid red trumpet flowers of Rhododendron lochiae [Section 210] from the mountaintops of North Qld need to be admired.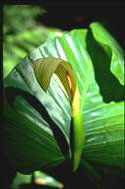 Close by is Alocasia macrorrhiza [Section 210], a tall lily-like plant with large 'elephant ear' fleshy leaves on long, upright stems. See the long stems bearing green 'flowers' with its inner rust coloured spike of minute male and female flowers. Then down the ramp to view Eremophila glabra 'Murchison Magic' [Section 210] with dusky red flowers scattered through its grey foliage … real magic.
A real floral wonderland …
Barbara Daly.
---
Updated by, Murray Fagg (anbg-info@anbg.gov.au)
---