Australian National Botanic Gardens
---
In Flower This Week

A weekly news-sheet prepared by a Gardens volunteer
Numbers in brackets [ ] refer to garden bed 'Sections'.
---
7 January 2000
The bright yellow flower clusters edging the drive from the main gates are Chrysocephalum semipapposum [Section175] and Pelargonium rodneyanum [Sections 222,223], at the base of the stairs, is bright with magenta-coloured flowers. Angophora costata subsp. costata [Section 169], Smooth Barked Apple, is a spreading shade tree with trunk coloured purplish-red exhibiting large clusters of woolly, white flowers. Kangaroo paw cultivars including Anigozanthos 'Bush Noon' [Section 210], alight with orange-yellow flowers on elongated stems, and Anigozanthos 'Bush Sunset' [Section 210], with maroon-coloured flowers, edge Banks Walk. Behind the statue of Joseph Banks is Banksia serrata [Section 174] bearing many green-grey flower spikes. Another colourful corner consists of a mix of mauve daisies of Brachycome sp. [Section 174] and a very small plant, Calandrinia polyandra [Section 174], with rosy pink yellow-centred flowers.
Edging this road are taller shrubs, mostly bearing white flowers. Kunzea ericoides [Section 12] makes a good screen plant with soft foliage well sprinkled with small white flowers. Leptospermum arachnoides [Section 12] is an open shrub with arching branches covered with small, white flowers. Melaleuca alternifolia [Section 12] is quite tall with papery bark and capped with white, bottlebrush-like flowers. Melaleuca huegelii [Section 12] has cream flowers in long cylindrical spikes.
Callistemon citrinus [Section 11] is a dense shrub with red bottlebrush flowers blending with the pink-tipped new growth. Nearby, Callistemon brachyandrus [Section 11] has smaller flowers coloured red and dotted with yellow anthers. Just around the corner, Eremaea beaufortioides [Section 10] is a low shrub vivid with orange clusters of flowers.
Banksia robur [Section 28] is producing many bluish-green buds maturing to greenish-yellow flower spikes. The leaves are large and leathery. One shrub may have yellow-veined green leaves and another may have pink-veined purple leaves, according to their origin. Along this winding path, Lomatia arborescens [Section 28] is a tall shrub with sprays of well designed cream flowers. Grevillea victoriae var. leptoneura [Section 27] is an old, open, sprawling shrub dotted with red spider-like pendent flowers.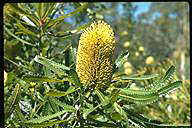 From the seat under Banksia aemula [Section 27], dotted with rust-coloured buds, take in the beauty of the Eucalyptus mannifera subsp. mannifera [Sections 27,27,29] trees scattered through this area, all with attractive, mottled grey trunks with pink splashes.
While you are in this area, explore the path on the far side of the Sydney Flora Region where the gully is concealed by tree ferns, Cyathea australis [Section 191] and Dicksonia antarctica [Section 191]. This secret nook is sprinkled with flowers, bird life and beauty …
Just great for the beginning of the new millennium.
Barbara Daly.
---
Updated by, Murray Fagg (anbg-info@anbg.gov.au)
---